Earth Day in The Ozarks | Springfield, MO
Posted by Kelsey Watters on Wednesday, April 19, 2023 at 11:05:07 AM
By Kelsey Watters / April 19, 2023
Comment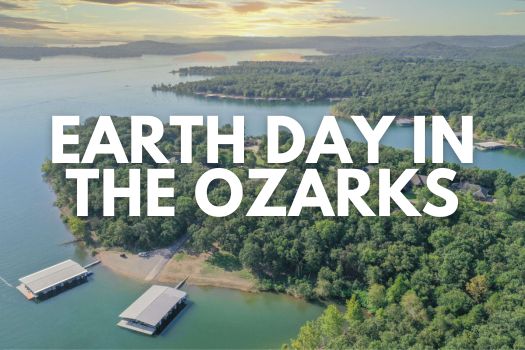 Here are all the Earth Day Events happening around the Ozarks this Thursday, April 20th to Saturday, April 22nd!
1. 3rd Annual Earth Day at Farmers Park
Let's celebrate our favorite little blue planet, Earth! Features live music by Justin Larkin, food trucks, beverage tents, and Earth-conscious vendors! Bring your lawn chair, blanket, and pups, and let's party! Event is FREE for all ages.
April 20, 2023 6:00 pm - 9:00 pm @ Farmer's Park Pavilion 2144 E. Republic Road, Springfield MO 65804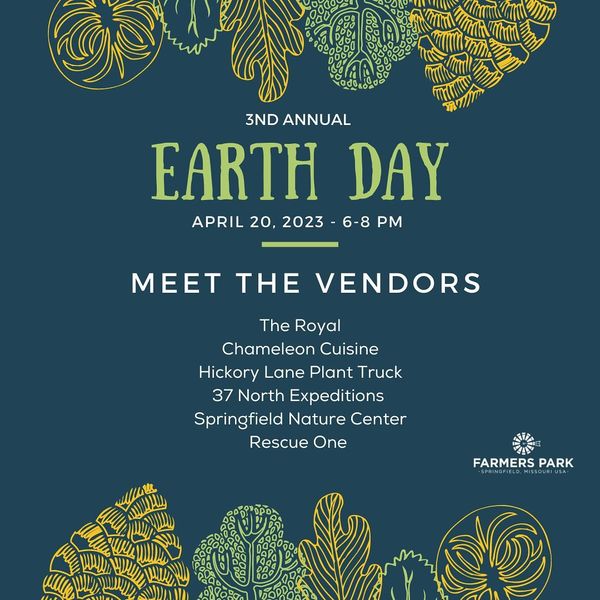 Springfield's Earth Day Music and Sustainability Festival is our yearly music festival held on the Saturday closest to Earth Day. It's a one-day, ticketed, plastic-free, music and sustainability festival that raises funds to help support our local environmental organizations.
Every year, we feature live musical acts from prominent local and regional bands, with top-notch production and stages. In addition to music, we invite our sponsors and other local businesses, who want to make an impact on the environmental movement, out to set up booths, where helpful information is shared, and sustainably-made goods are sold. They were able to raise $18,000 in 2022 for their beneficiaries! Purchase tickets HERE. Watch 2022 recap video HERE.
April 22, 2023 11:00 am - 8:00 pm @ Jordan Valley Ice Park 635 E Trafficway St, Springfield, MO 65806
3. Earth Day Cleanup - Springfield Lake
Celebrate Earth Day by making an impact on our beloved James River and Lake Springfield at this annual cleanup! FREE event for all ages.
April 22, 2023 8:00 am - 12:00 pm @ Lake Springfield Boathouse 5220 S. Southwood Road, Springfield, MO 65804
4. Earth Day Cleanup with 4 By 4 Brewing Company!
Join our earth-loving employee Paige on an Earth Day cleanup with 4 By 4 to celebrate this beautiful planet. Because we now have two locations, we now serve two communities. So, of course, we're cleaning up at two different parks, one close to each location. We'll provide bags and gloves and in return for turning in a bag of trash at 4 By 4 after meeting up at the park, you'll get a coupon for $3 off your first pour!
Our first cleanup is at Sequiota Park near our Galloway Location. Cleanup starts at 12pm! We'll meet at the pavilion between the two play areas. Our second cleanup is at Springfield Lake near our Fremont Hills Location. Cleanup starts at 3pm! We'll meet at the boathouse at the end of the road! We can't wait to serve our communities and then serve you a discounted delicious brew to thank you for helping make our community, and earth, a bit more beautiful! Event is FREE for all ages.
April 22, 2023 12 pm @ 4x4 Brewing Company and 3 pm @ Springfield Lake Boathouse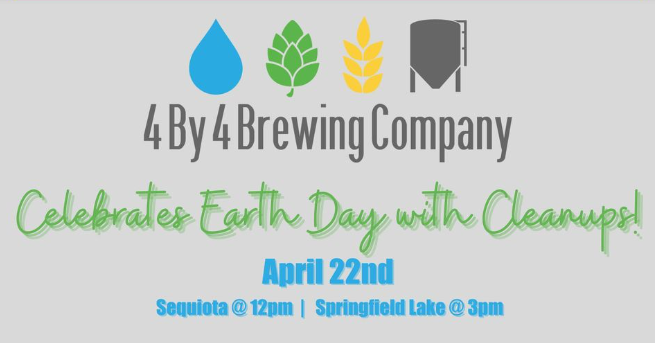 Join us for a family friendly Enviro Flick to celebrate Earth Day in partnership with the Springfield Art Museum! We will be showing Toy Story 4 and will have activity stations with make and take activities until 5 pm! Event is FREE for all ages.

Toy Story 4 showing 1:00 - 2:30 pm Activity stations 2:30 - 5 pm
April 22, 2023 1:00 pm - 5:00 pm @ Springfield Art Museum 1111 E. Brookside Drive, Springfield MO 65807
When the [Earth Day Festival] wraps at Jordan Valley, you don't have to go home! Keep your wristbands on/don't wash your stamps, and ride your bikes or take a stroll over to Mother's Brewing Co. for the after party! Free entry, and if you are a fest attendee, you get $1 off all beers for the night! Live music will be provided by Springfield's own Hometown Tourist. Outside, weather permitting. See you there!
April 22, 2023 8:00 pm - 12:00 am @ Mother's Brewing Company 215 S Grant Avenue, Springfield, MO